Rockford, IL… Dr. Mike Fumo of Rockford Urological Associates received the second-highest rating in the state among surgeons performing prostate removal surgeries for prostate cancer according to Propublica, a non-profit news organization. He routinely performs more than 125 prostate resections each year.
Propublica analyzed the level of complications among physicians performing more than 20 prostate removal surgeries per year over a 5-year period for patients with Medicare insurance. Dr. Fumo performed 147 radical prostatectomies during the sample time period and had the second-lowest complication rating in the state of Illinois at 2.1%.
The results can be found here and the study covers other medical procedures, as well: https://projects.propublica.org/surgeons/state/IL/procedure/605.
Rankings are based on data collected by Medicare and Medicaid services. September is Prostate Cancer Awareness Month.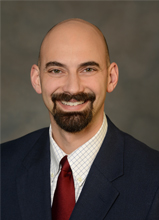 Dr. Michael Fumo practices general urology with a special interest in all aspects of the treatment for prostate cancer and robotic surgery for the treatment of urological disorders. He has performed more than a thousand robotic surgeries for the removal of cancerous prostates. Doctor Fumo earned his Bachelor's Degree from the University of Chicago in 1997 and his Medical Degree from the University of Chicago, Pritzker School of Medicine in 2001. He completed a Urological Surgery Residency at the Vattikuti Urology Institute, also at the Henry Ford Health Systems, a Robotic Urologic Surgery Fellowship, again at the Vattikuti Urology Institute, and was named Chief Resident, Urological Surgery, Vattikuti Institute at the Henry Ford Health Systems from 2006-2007.